Bathroom plants: May 2019 Houseplants of the Month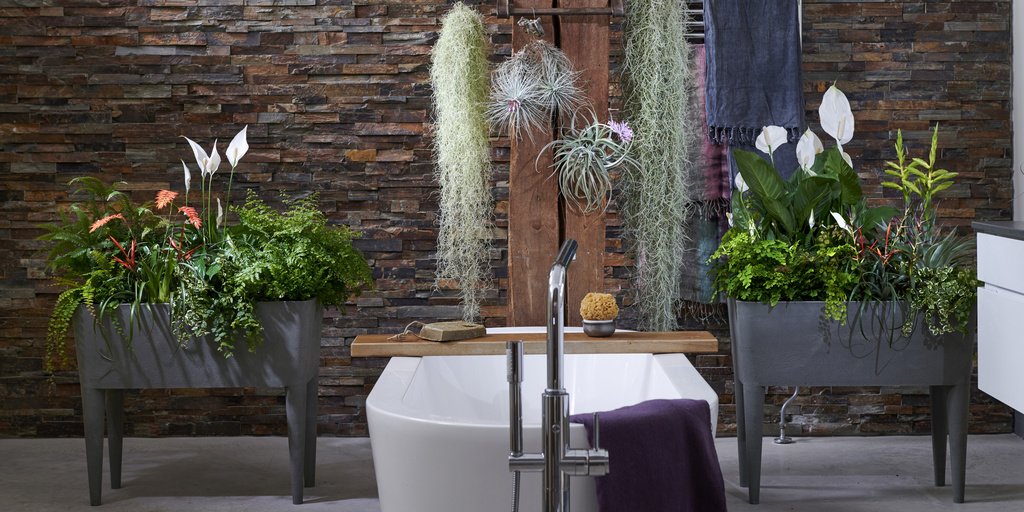 The story of Bathroom plants 
Bathroom plants all like shade, high temperatures and high humidity – similar to the conditions that are found in a rainforest (and the bathroom). And they fit in perfectly with the interiors trend where a room is more than just somewhere to dash in and out of and becomes a space to enjoy for a good start, or relaxing end to the day. The Bathroom plants have been specially selected to be displayed together for optimum effect.
Bathroom plants range 
The best Tillandsia for use in the bathroom is the epiphytic T. useneoides (Spanish moss). Tillandsia is also commonly offered as small rosettes in various shapes and sizes. These are also classic epiphytes, of which T. xerographica (large grey rosette) or ionantha (small red rosettes) are examples. Flowering T. cyanea (pink and blue) or T. flabellata (red) are also very suitable and have the added benefit of bringing colour to the bathroom.
Spathiphyllum (peace lily) is offered in many different cultivars, from very small plants with small white blooms to plants almost as tall as a person with large spathes. There are green-leaved and variegated-leaved varieties. We are also increasingly seeing coloured spathes.
Maidenhair fern comes in various cultivars, ranging from green-leaved to bronze-coloured varieties.
Ficus pumila is offered as both a hanging plant and climber in green-leaved and white or yellow variegated cultivars. The young plants have small leaves. The leaves can get larger as they get older.
Made possible by: